Jeremiah 30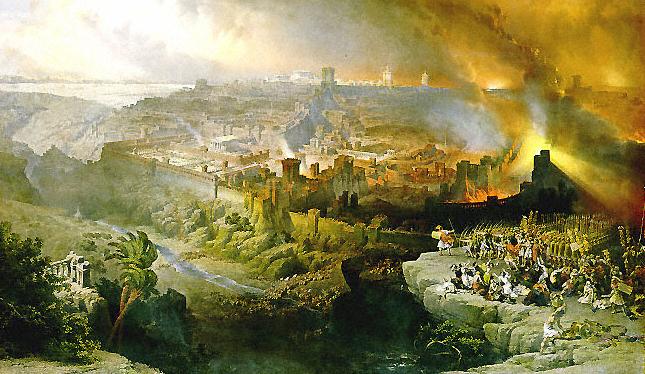 Those Mischievous Futurist teach that there is a future tribulation, that they call the "time of Jacob's trouble".  They take this from the verse.
Alas! for that day is great, so that none is like it: it is even the time of Jacob's trouble; but he shall be saved out of it.   Jer 30:7
However they have lifted this verse entirely out of its context. The context of the verse is the Babylonian Empire is coming in Jeremiah's day to destroy the temple and take Judah into exile. Therefore the "time" of Jacob's trouble clearly begins with that destruction of the temple by the Empire of Babylon under the kingship of Nebuchadnezzar, not some time in the far distant future.
1  The word that came to Jeremiah from the LORD:  2 "Thus says the LORD, the God of Israel: Write in a book all the words that I have spoken to you.  3 For behold, days are coming, says the LORD, when I will restore the fortunes of my people, Israel and Judah, says the LORD, and I will bring them back to the land which I gave to their fathers, and they shall take possession of it."
Jeremiah 30 is a marked change in the writing style of Jeremiah. Up to this point he has been admonishing the people to change there ways and repent of their wickedness. From here on his predictions of imminent disaster come with promises of restoration and prophecies that they will someday in the far future repent. The passage starts with a reassurance that in the end God will restore Israel and Judah, not just Judah. But both nations shall return.
FYI: Israel and Judah were separate nations long before the time of Jeremiah. They had broke into two nations after the death of Solomon. Judah, Simeon, and Benjamin became the southern nation of Judah, while the rest of the tribes formed the northern nation of Israel. [1Kings 12]
4   These are the words which the LORD spoke concerning Israel and Judah:  5 "Thus says the LORD: We have heard a cry of panic, of terror, and no peace.  6 Ask now, and see, can a man bear a child? Why then do I see every man with his hands on his loins like a woman in labor? Why has every face turned pale?  7 Alas! that day is so great there is none like it; it is a time of distress for Jacob; yet he shall be saved out of it. 
Both nations are in panic not just Judah as those Futurist's would have it. The men are as woman giving birth. As all women who have given birth will attest there nothing that is going on around them matters, you will lay down in the middle of the street to have that baby. The false prophets had been telling them that all was well. Don't look behind the curtain, nothing evil is coming. However Jeremiah was telling the truth. Babylon was coming for Judah just as Assyria had come for Israel. When Babylon came the men were in agony. They were unable to do anything about what was going on around them. Avery few tried to flee, but it was too late. The city fell to the Babylonians. However when a woman gives birth all the pain and discomfort is forgotten in the joy of a child. No child was coming, at least not in their lifetimes. There was only destruction and death.
8   "And it shall come to pass in that day, says the LORD of hosts, that I will break the yoke from off their neck, and I will burst their bonds, and strangers shall no more make servants of them.  9 But they shall serve the LORD their God and David their king, whom I will raise up for them. 
Sudden change in the prophecy as better times are coming. Like the joy of the new life, freedom will come. Many see a Messianic promise here, the phrase "in David their king whom I will raise up" that this is talking of spiritual freedom that is given to all who believe in Messiah. Others see a future where the both Judah and Israel return to God and His Messiah. (We believe that both are meant.)
10   "Then fear not, O Jacob my servant, says the LORD, nor be dismayed, O Israel; for lo, I will save you from afar, and your offspring from the land of their captivity. Jacob shall return and have quiet and ease, and none shall make him afraid.  11 For I am with you to save you, says the LORD; I will make a full end of all the nations among whom I scattered you, but of you I will not make a full end. I will chasten you in just measure, and I will by no means leave you unpunished. 
Those who believe this happen in 1948 are just plain wrong. Such an interpretation does not meet the fact. The passage says that they will have quiet and ease. We must also consider that Zech. 14:1-5 makes it quite clear that Jerusalem will be sacked one more time, and the people set into exile yet again. [c.f. Jer. 10:25, 25:15]
God explains that this punishment is deserved, and further explains to the nations  who are the ones dishing out God's discipline must not be too excessive at being God's hand or they will face the wrath of God themselves.
12   "For thus says the LORD: Your hurt is incurable, and your wound is grievous.  13 There is none to uphold your cause, no medicine for your wound, no healing for you.  14 All your lovers have forgotten you; they care nothing for you; for I have dealt you the blow of an enemy, the punishment of a merciless foe, because your guilt is great, because your sins are flagrant.  15 Why do you cry out over your hurt? Your pain is incurable. Because your guilt is great, because your sins are flagrant, I have done these things to you.  16 Therefore all who devour you shall be devoured, and all your foes, every one of them, shall go into captivity; those who despoil you shall become a spoil, and all who prey on you I will make a prey.  17 For I will restore health to you, and your wounds I will heal, says the LORD, because they have called you an outcast: 'It is Zion, for whom no one cares!' 
Through out the prophets the term "lovers" is used to condemn Jacobs descendants of idolatry. God views the pagan gods as rivals for His people's love. He says there is no healing for this. The pagan gods were never real so they will not save the people. The nations who's gods they were worshiping have come and devoured the people. However the devourers will themselves be devoured. Yet again He promises to restore Zion, a place no one cares for.
18   "Thus says the LORD: Behold, I will restore the fortunes of the tents of Jacob, and have compassion on his dwellings; the city shall be rebuilt upon its mound, and the palace shall stand where it used to be.  19 Out of them shall come songs of thanksgiving, and the voices of those who make merry. I will multiply them, and they shall not be few; I will make them honored, and they shall not be small.  20 Their children shall be as they were of old, and their congregation shall be established before me; and I will punish all who oppress them.  21 Their prince shall be one of themselves, their ruler shall come forth from their midst; I will make him draw near, and he shall approach me, for who would dare of himself to approach me? says the LORD.  22 And you shall be my people, and I will be your God." 
This is what Balaam said when he could not curse the people. Those who wish like Balaam to make God's people poor and destitute will get no reward. For the dwelling places of God's people is where He swells.
. . . how fair are your tents, O Jacob, your encampments, O Israel! Num. 24:5

The angel of the LORD encamps around those who fear him, and delivers them. Psa. 34:7
The question is this to be interpreted literal as in the literal historic capital city of Israel, where people literarily live, or is the spiritual new Jerusalem, a city of symbolic imagery, the city from above. [ Gal. 4; Heb. 12; Rev. 21] Time will tell.
23  Behold the storm of the LORD! Wrath has gone forth, whirling tempest; it will burst upon the head of the wicked.  24 The fierce anger of the LORD will not turn back until he has executed and accomplished the intents of his mind. In the latter days you will understand this. 
The idea that this is some seven year period in the future is not supported by the text. It cannot be for later times. The people of the post modern church are confused, our minds are not clear on this at all. We are plagued by dispensationalist that say that this is about seven years in the future. However the plain reading of the text is clear that it is talking about the whole of Israel and Judah's captivity, and the devouring of all the nations that have ever been harsh on God's peoples.