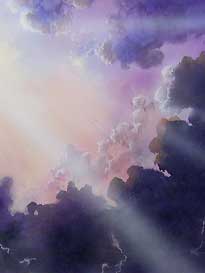 Because the RSV really goofed the translation we are going to switch here to the KJV.
29 All they that be fat upon earth shall eat and worship: 

all they that go down to the dust shall bow before him: 

and none can keep alive his own soul. 

30 A seed shall serve him; 

it shall be accounted to the Lord for a generation. 

31 They shall come, and shall declare his righteousness unto a people that shall be born, 

that he hath done this. 
Being fat has for most of the earth's history been a sign of prosperity, as food was not alway easy to come by before the industrialization of farming. Here the point is that death is the great equalizer, one cannot secure ones position in the afterlife with wealth or poverty in this life. In the end no one will escape from having to worship the Lord. All will bow either willingly or grudgingly.
. . . that at the name of Jesus every knee should bow, in heaven and on earth and under the earth, Phil. 2:10
A seed shall serve him, this is meant that only a few shall serve the Lord. It is not "their seed" for service to God, for it is not secured by birth but rather by obedience. It is not "The Seed" for that would reverence Messiah, and the first part of this Psalm was about His work, this is about our response. It is not "many seeds" for true believers are never many.
. . . knowing that from the Lord you will receive the inheritance as your reward; you are serving the Lord Christ. Col. 3:24
Those that serve the Lord are His generation.
Then we thy people, the flock of thy pasture, will give thanks to thee for ever; from generation to generation we will recount thy praise. Psa. 79:13

And that has been reckoned to him as righteousness from generation to generation for ever. Psa. 106:31
His great work on the cross that brought salvation to the who-so-ever wills and not just to the physical descendants of Abraham must be proclaimed to the people who are not yet born. Every generation must repeat the tale, we must tell the story of Messiah, from generation to generation.
For the work He promised, is done, it is finished, He kept the promise, there is no more that can be done. We must simple trust.
When Jesus therefore had received the vinegar, he said, It is finished: and he bowed his head, and gave up the ghost. John 19:30