"Who then is the faithful and wise servant, whom his master has set over his household, to give them their food at the proper time?  46 Blessed is that servant whom his master when he comes will find so doing. 47 Truly, I say to you, he will set him over all his possessions. 48 But if that wicked servant says to himself, 'My master is delayed,'  49 and begins to beat his fellow servants, and eats and drinks with the drunken, 50 the master of that servant will come on a day when he does not expect him and at an hour he does not know,  51 and will punish him, and put him with the hypocrites; there men will weep and gnash their teeth. Matt. 24:45-51

Take heed, watch; for you do not know when the time will come. It is like a man going on a journey, when he leaves home and puts his servants in charge, each with his work, and commands the doorkeeper to be on the watch. Watch therefore — for you do not know when the master of the house will come, in the evening, or at midnight, or at cockcrow, or in the morning — lest he come suddenly and find you asleep. And what I say to you I say to all: Watch." Mark 13:33-37
When the Lord was to come in judgement upon Jerusalem and the temple, the believers were to be looking for signs. Beyond this, they were cautioned to not be merry-making or forgetting to look for the armies advance.
Watch therefore, for you do not know on what day your Lord is coming. Matt. 24:42
Followers of Messiah who are faithful to Him, and wise in Him, would be about their Father's business. They would be guarding His household, including food and possessions. This is a euphemism to mean all that is ours, is in reality from Him. In other words, what the Messiah gives us comes with a responsibility to be doing what He asks of us. And, what He asked in this particular instance, was to watch for the signs of His coming.
But know this, that if the householder had known in what part of the night the thief was coming, he would have watched and would not have let his house be broken into. Therefore you also must be ready; for the Son of man is coming at an hour you do not expect. Matt. 24:43, 44
Those individuals doing what faithfulness requires, will be blessed. As watchful stewards, they will not only escape the coming judgement, but rule over all that is His.
We are once again visiting the theme of the wickedness of that generation. This time, faithlessness also appears to embrace those who are His, as they are also called servants of the Master. They appear to be asleep!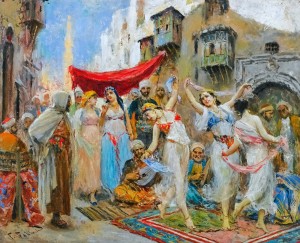 This passage comes with a warning to believers. Messiah exhorted His followers that there was a possibility that they would be caught up in the destruction. They are cautioned, once again, not to be eating and drinking, marrying and given in marriage, but rather they were to abandon the city of Jerusalem.
Those unfaithful and unwise servants will be saying the Lord delays! They become abusive, drunk and gluttons. They will not be looking for the Masters' judgment. The punishment awaiting that sort of a believer is harsh, but deserving. Those followers, the weak and foolish, will end up with the hypocrites… the Jews who rejected their Messiah!
Those who manage to stay alive, will be weeping and gnashing their teeth over the outcome of a bloody and painful destruction of Jerusalem and the temple. The Roman Army would see to it.
"But take heed to yourselves lest your hearts be weighed down with dissipation and drunkenness and cares of this life, and that day come upon you suddenly like a snare; or it will come upon all who dwell upon the face of the whole earth. But watch at all times, praying that you may have strength to escape all these things that will take place, and to stand before the Son of man." And every day he was teaching in the temple, but at night he went out and lodged on the mount called Olivet. And early in the morning all the people came to him in the temple to hear him. Luke 21:34-38
Many have used this as a judgement on the church at the Second Coming of the Lord. There are plenty of passages on that subject; this is not one of them. However, they are very similar.
The church will face a discipline at the Second Coming not unlike what was experienced by the Jews in 70AD.  As we have a Greater Light, our punishment will more than likely be even more severe.
And the kings of the earth, who committed fornication and were wanton with her, will weep and wail over her when they see the smoke of her burning; Rev. 18:9

. . . and cried out as they saw the smoke of her burning, "What city was like the great city?" Rev. 18:18

Once more they cried, "Hallelujah! The smoke from her goes up for ever and ever." Rev. 19:3
Following Messiah, requires obedience! Do not sleep!